Event App
Progressive Web App Installation Instructions
What browsers support PWA installation?
Installation is supported by Safari on iOS as well as Chrome and Firefox (v58+) for Android.
Installation
Go to https://aeaevents.syr.edu on your mobile browser, then follow the instructions for your phone and browser.
Google Chrome and Firefox for Android
Upon loading the site, you'll see an install banner pop up asking whether you want to add this app to your home screen.
If you choose not to add it to your home screen at this point, you can do so later using the "Add to Home Screen" icon in the main Chrome menu.
On other Android browsers, you'll see a "home" icon with a plus (+) icon inside it. Tapping this will show a confirmation banner. Choose "+ ADD TO HOME SCREEN" to complete the action, adding the app to the home screen. Note that in Android 8 and higher, a system-level "Add to Home Screen" permission dialog will be shown first.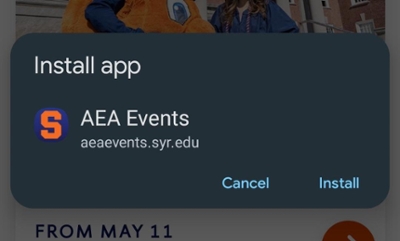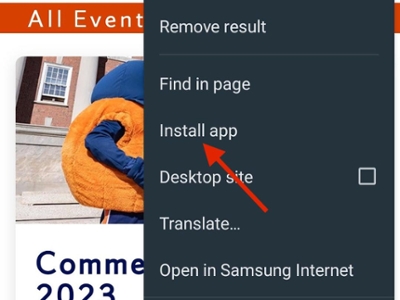 Safari for iOS
To add the AEA Events App to the home screen (also known as the launcher or springboard), tap the sharing button at the bottom of the screen.
This will open the sharing panel. Among the options should be the "Add to Home Screen" option. Choose "Add to Home Screen" here to add the app to the home screen. Confirm by clicking "Add" to complete the process.
Once installed, the app will be available on your home screen and perform like any other app.