Syracuse University Scholars
Each year twelve seniors are selected to be the Syracuse University Scholars, the highest undergraduate honor the University bestows.
The Syracuse University Scholars Selection Committee, a University-wide faculty committee, selected the 2023 scholars using criteria that included coursework and academic achievement, independent research and creative work, evidence of intellectual growth and/or innovation in their disciplinary field, a personal statement and faculty letters of recommendation.
For more information on the Class of 2023 scholars, see the Syracuse University News press release.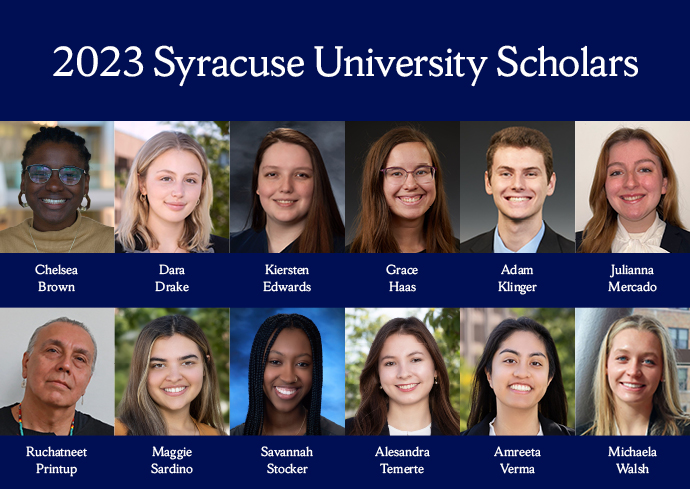 SU Scholars List
Chelsea Brown, a television, radio and film major in the S.I. Newhouse School of Public Communications, a citizenship and civic engagement major in the Maxwell School of Citizenship and Public Affairs and a Posse Scholar; Brown studied abroad in Copenhagen, Denmark, during the Fall 2022 semester
Dara Drake, a policy studies major in the Maxwell School and the College of Arts and Sciences (A&S) and a member of the Renée Crown University Honors Program; Drake studied abroad in London during the Spring 2023 semester
Kiersten Edwards, a public health major in the Falk College of Sport and Human Dynamics and neuroscience major in A&S
Grace Haas, a bioengineering major in the College of Engineering and Computer Science (ECS) and a neuroscience major in A&S
Adam Klinger, a chemical engineering major in ECS
Julianna Mercado, a biochemistry and forensic science major in A&S
Ruchatneet Printup, a film major in the College of Visual and Performing Arts and a Haudenosaunee Promise Scholar; Printup studied abroad in Italy during the summer of 2022
Maggie Sardino, a writing and rhetoric major in A&S and citizenship and civic engagement major in the Maxwell School, a Coronat Scholar and a member of the Renée Crown University Honors Program
Savannah Stocker, an inclusive education and special education major in the School of Education and a member of the Renée Crown University Honors Program
Alesandra "Sasha" Temerte, an economics major in the Maxwell School and A&S and writing and rhetoric major in A&S, a Coronat Scholar and a member of the Renée Crown University Honors Program; Temerte studied abroad in Spain during the Fall 2019 semester and in Italy during the Fall 2021 semester, and is a Syracuse Abroad global ambassador
Amreeta Verma, a student in the School of Architecture; Verma studied abroad in Italy during the Fall 2021 semester and is a Syracuse Abroad global ambassador
Michaela Walsh, a finance major in the Whitman School of Management and public relations major in the Newhouse School