Class and Student Marshals
Class Marshals
Two Syracuse University seniors are selected as all-University representatives for the Class of 2023 and have unique opportunities throughout their senior year to engage with various University stakeholders, help select their Commencement speaker, and discuss their student experience and offer constructive suggestions with senior administrators. They are selected by the search committee, composed of Division of Enrollment and the Student Experience staff, using criteria based upon scholarship, academic honors, student organization involvement, campus and community service, and exhibited school spirit.
For more information on the Class of 2023 class marshals, see the SU News press release.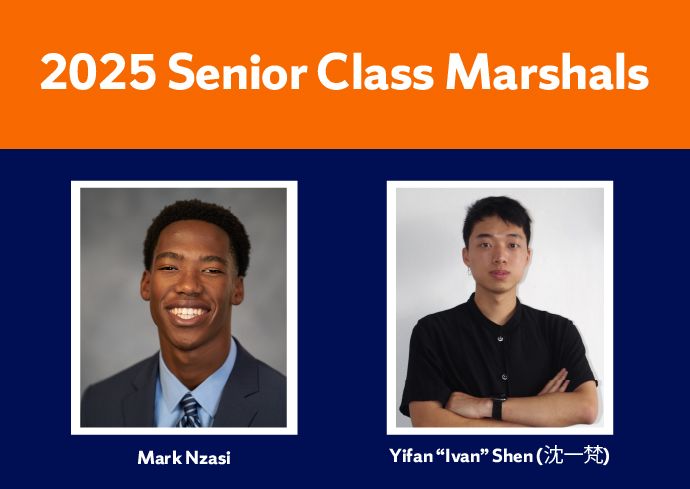 Simone Bellot (Nassau, Bahamas)
Class Marshal
Majors: Communication Sciences and Disorders, Neuroscience
Michael "MP" Geiss (Syracuse, NY)
Class Marshal
Majors: Policy Studies, Physics
Minors: Biology, Economics


Student Marshals
Marshals represent each of the University's schools and colleges. They are selected for their distinguished achievement in scholarship, academic honors, student organization involvement, leadership, and collegiality, as well as campus and community engagement and service. School and college marshals have many roles within the Orange community and participate in significant University events including New Student Convocation, Winter Convocation and leading the procession of graduates from their respective school or college into the Commencement ceremony.
Rehan Balsara (Mumbai, India)
Martin J. Whitman School of Management
Majors: Business Analytics, Finance, Management
Minor: Psychology
Christopher Beardsley (Townsend, DE)
Maxwell School of Citizenship and Public Affairs
Major: Master's in Public Administration and International Relations
Kyra Schlanger Birenbaum (Brooklyn, NY)
David B. Falk College of Sport and Human Dynamics
Major: Human Development and Family Science
Minor: Disability Studies
Brendan Carroll (South Salem, NY)
School of Architecture
Major: Architecture
Minor: Real Estate
Ella Farrell (Seal Beach, CA)
School of Information Studies
Major: Information Management and Technology, Policy Studies
Minor: Political Science
Mary Fitzgerald (East Brunswick, NJ)
School of Education
Major: Inclusive Elementary and Special Education
Minor: Italian
Diana Garcia-Varo (Bronx, NY)
College of Visual and Performing Arts
Majors: Art Video, Psychology
Justin Gluska (Hollywood, FL)
College of Engineering and Computer Science
Major: Computer Science
Minor: Information Technology, Design, and Startups
Alex T. Guo (Los Angeles, CA)
David B. Falk College of Sport and Human Dynamics
Major: Sport Management
Minors: Public Communications Studies, Business
Chris Holowczak (South Orange, NJ)
School of Education, College of Arts & Sciences
Majors: Mathematics, Mathematics Education 7-12
Porter Holt (Kutztown, PA)
S.I. Newhouse School of Public Communications
Major: Broadcast and Digital Journalism
Minor: Sport Analytics
Ania Johnston (Brunswick, ME)
College of Visual and Performing Arts
Major: Film
Minor: Philosophy
Madeline Jones (Bristow, VA)
College of Engineering and Computer Science
Majors: Bioengineering, Neuroscience
Mykenna Maniece (Laurel, MD)
S.I. Newhouse School of Public Communications
Majors: Magazine Journalism, Women's and Gender Studies
Julianna Mercado (Holbrook, NY)
College of Arts & Sciences
Majors: Biochemistry, Forensic Science
Mona Pudasaini (Schaumburg, IL)
School of Information Studies
Major: Information Management and Technology
Minors: Biology, Public Health
Ohana Benevides Rodrigues (Petrópolis, Brazil)
Graduate School
Major: Physics
Justine Ellen Salerno (Cobleskill, NY)
Martin J. Whitman School of Management
Major: Supply Chain Management and Business Analytics
Minor: Mathematics
Jessica R. Senzer (Plainview, NY)
College of Law
Major: JD, M.S. in Cultural Foundations of Education and C.A.S. in Disability Studies
Taylor Stover (Amherst, NY)
College of Arts & Sciences, Maxwell School of Citizenship and Public Affairs
Majors: International Relations, History
Minors: French, Francophone Studies
Amreeta Verma (Green Brook, NJ)
School of Architecture
Major: Architecture
Minors: Environmental & Society, Visual Culture
Cherri L. Wells (Holland Patent, NY)
Professional Studies
Major: Creative Leadership